Andre Berto needs a Win versus Floyd Mayweather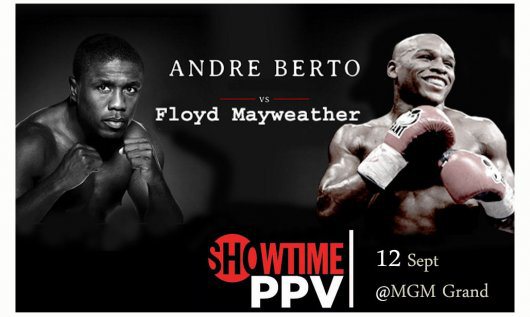 Time and time again, entertainers (sports/media/and etc) are tasked with the obligatory assignment of representing their neighborhood, state, country or race. As a fellow Haitian-American, I understand the reasoning behind making Andre Berto another candidate. However, no man or woman should be given that title because of the scrutiny that is bestowed upon you if you f%$k up. From Orenthal James "Juice" Simpson to Arnold Schwarzenegger, we all have witnessed that sometimes they do not live up to our praise and admiration. As a boxer, Andre Berto isn't the greatest I have seen but overall his attitude is that of many boxers in the peak of their careers. Tonight, I want to see a complete fight and not waste a moment of my time wishing he got another chance.
To bring anyone up to speed about the boxer Andre Berto, here we go. He competed as an olympian representing the caribbean island of Haiti in 2004. His professional record currently stands at 33 fights; 30 wins; 23 wins by KO and 3 losses. From the fights I have seen, he should have a good chance of going 12 rounds in his fight with Floyd Mayweather in Las Vegas tonight.  In my opinion, Andre Berto should be advised not to go hard early like he does in most of his fights because it will not work with Floyd.
In the end, win, lose, or draw I like both fighters and will not feel any more or less about Berto as a representation of what Haiti has to offer in boxers or entertainers for that matter. Make your family proud Andre Berto. "LET'S GET READY TO RUMBLE"!
Leave a comment Silvouple! Let me know how you feel.
[contact-form][contact-field label='Name' type='name' required='1'/][contact-field label='Email' type='email' required='1'/][contact-field label='Website' type='url'/][contact-field label='Comment' type='textarea' required='1'/][/contact-form]
https://whoisdesir.com/wp-content/uploads/2015/09/sm-bertomay2.jpg
317
530
Jean-Désir
https://whoisdesir.com/wp-content/uploads/2019/05/WhoIsDésir-The-Lifestyle-Connoisseur-Entrepreneurship.png
Jean-Désir
2015-09-13 00:14:03
2022-10-13 17:01:38
Andre Berto needs a Win versus Floyd Mayweather