Lil Greenhouse Grill in Overtown, Miami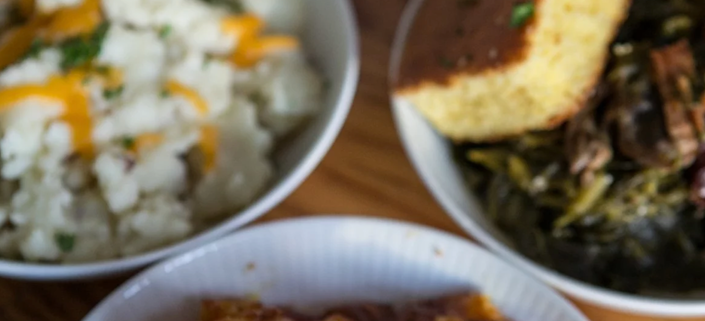 Black owned eatery in the heart of Miami's Overtown neighborhood
Nakeeta Gates, the founder of Lil Greenhouse Grill. This black owned eatery in the heart of Miami's Overtown neighborhood, is sure to please.
My first visit was for a friend's birthday party. The Miami based eatery had a very inviting atmosphere that made me feel like I was at one of my cool aunt's crib.
As a wine drinker, I ordered a few glasses of Chardonnay & took a big slice of rum cake that was made for my friend. Sipping and dancing the evening away, I forgot to order something from their kitchen in time before it closed. Unbothered by the whole situation, I drove home thinking I had to come back because most of my colleagues were talking about visiting when in search of some great soul food.
Don't cry for me just yet! While coasting home down Biscayne in the rain drizzle that is constant during hurricane season, I got a text.
The owner and Chef Karim Bryant saved me a personal plate of her smoked BBQ ribs. Now, I must tell all of my vegan friends, I ate those ribs like my life depended on it. If anything, I probably would've made a simple sandwich that night and this plate with all the "fixins" made my evening. Again, I do have to say that eating out is a luxury and any time that you have an over the top experience, you should make note of it.
I will be back soon to visit the Lil Greenhouse Grill and when you are in the area; stop by and enjoy yourself. I give this a stamp of approval from The Lifestyle Connoisseur team.




What is on the menu:
Smoked BBQ Ribs
Black Bean Burger
Seafood Cake Dinner
Grilled Shrimp
Want to view more articles Click here!
https://whoisdesir.com/wp-content/uploads/2017/11/LilGreenhouse-WID-Image705x321.png
321
705
Jean-Désir
https://whoisdesir.com/wp-content/uploads/2019/05/WhoIsDésir-The-Lifestyle-Connoisseur-Entrepreneurship.png
Jean-Désir
2017-11-22 22:19:24
2022-10-10 13:42:51
Lil Greenhouse Grill in Overtown, Miami